In
my last post
I mentioned my plans to make bags with crocheted bottoms.
I worked on them in the last two weeks and now I can show you the final result.
I think mixing fabric and crochet is an interesting idea, expecially if you are interested in something informal, quite rustic, strong enough to carry your essentials, but with the romantic accent given by crocheted details.
I don't now why I've abandoned this idea after my first (good) experiment
more than
4 years ago
.
Anyway, I made two different bags, starting from two similar (in their shape) bottoms. I like to be various when I create :)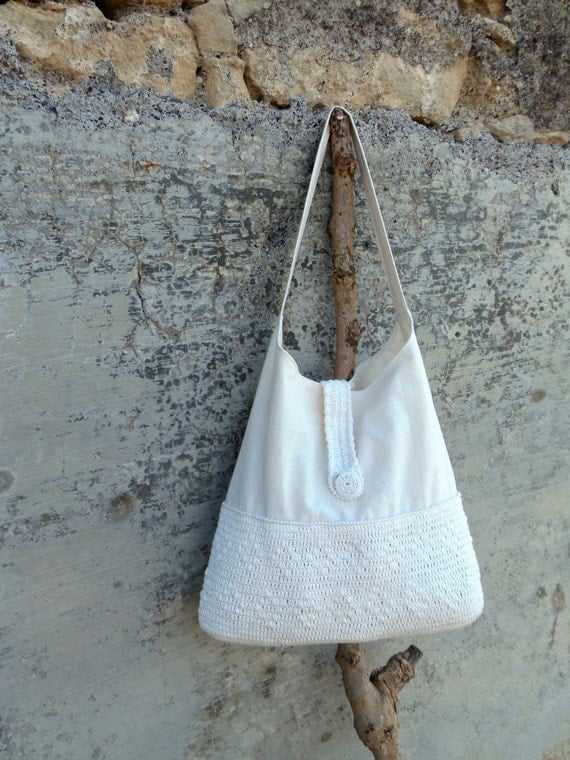 It has a crocheted plastic button + a strap for closure.
Inside I've fully lined it with a vintage striped fabric (it comes from an italian tailor's shop closed in the 80s).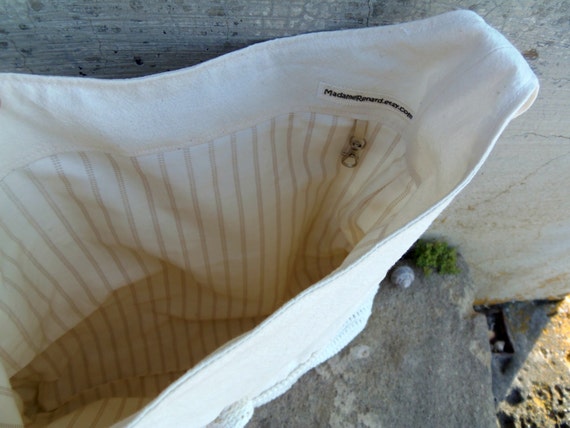 Here a close-up of the bottom made by AuntFran: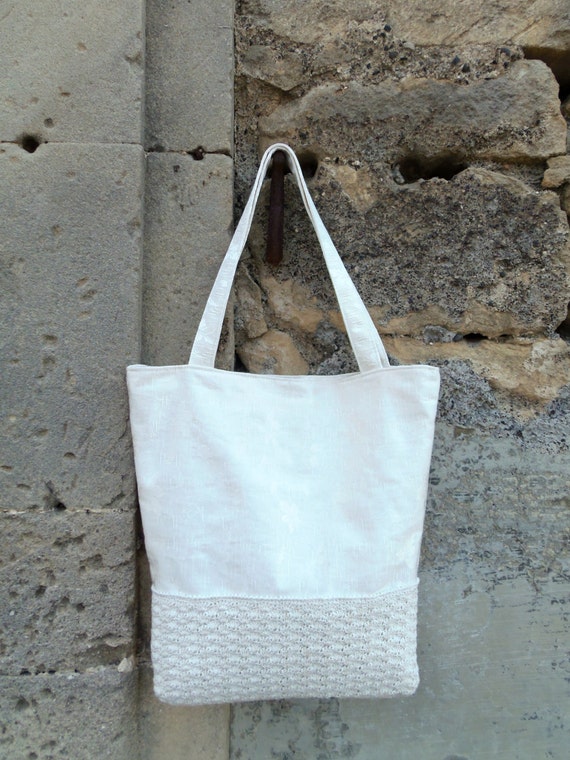 The peculiarity of this bag is the white fabric used for the exterior parts: a recycled upholstery fabric, saved from the workshop of a friend here in Sicily (he was going to throw it in the trash can, because the pieces were too small for his work).
This fabric has a pattern of leaves you can see if you look closely at it:
Do you like the stitches used by AuntFran?
I do, I do. This pattern is probably my favourite. She often uses it, expecially for her pencil cases and pouches.
This bag's design is quite simple: a "regular" tote with two straps.
But I gave attention to some details, like the zippered closure and the inner pocket:
Very proud of me and of the skillness I've reached after years and years of sewing bags! :)
My plans are to going on making complex bags, with pockets, zippers, adjustable straps and other details that make the bags more "professional" in their look (although I want to save also their handcrafted peculiarities).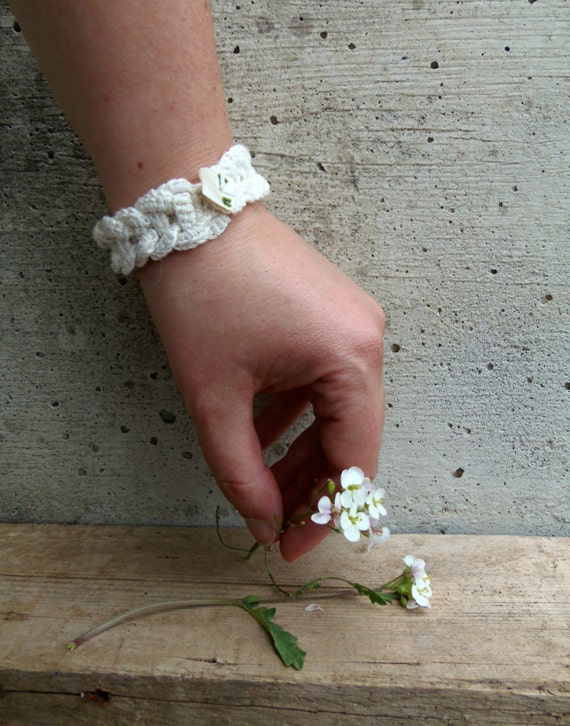 I added a recycled mother-of-pearls button and voilà... listed in the shop, ready to be matched with one of the white bags!
* * *
I'd really like to hear your opinion about these bags in the comments.
Someone said me they are beautiful, but look too delicate for everyday use.
I do not agree, because I know how the fabric and the bottom are strong. And the white surface can be washed without problems in tepid water by hands and then ironed. No difficult manteinance!
Leave me you thoughts in the comments!
I'm visualizing a young woman with one of these bags on her shoulders while having a short holiday in the country, this summer. Or having it as a good company while exploring little ancient villages in Europe...